Alumni have appeared in a commercial with pop artist Adele during the Grammys 2012, and achieved 2nd place winner of American Protege competition at Carnegie Hall, been accepted into Professional Performing Arts School,Frank Sinatra HS, and LaGuardia HS of Performing Arts, performed in movies and TV, made it to the 3rd callback for the role of Matilda in the Broadway show, sung the national anthem at the US Open, become news anchors, musical theater performers and writers, opera singers, theater critics, film directors and more.
Alum Nicholas Bompart earned his B.A. in Theater Arts from Pace University. He produces, writes and directs off-Broadway plays at theater festivals, is a filmmaker with more than 10 films which have won accolades at domestic and international film festivals, and is a Bass-Baritone opera singer.
His play "Idols" was performed at the New York Theater Festival on October 24, 26 and 29, featuring two of our Garden Players actors, Chloe and Benny. Congrats!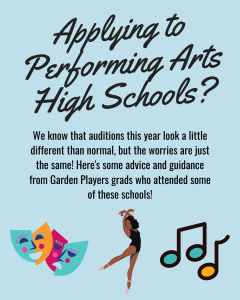 Auditioning for Performing Arts High Schools in NYC has always…
Do you want to help out backstage, assist classes, and share your news? Take our Grad Survey!
We'd love to update how you prefer to keep in touch with us!
You don't have to be a grad to enjoy volunteering in our theater community. Explore opportunities in sets, props, costumes, fundraising, non-profit development, and more.