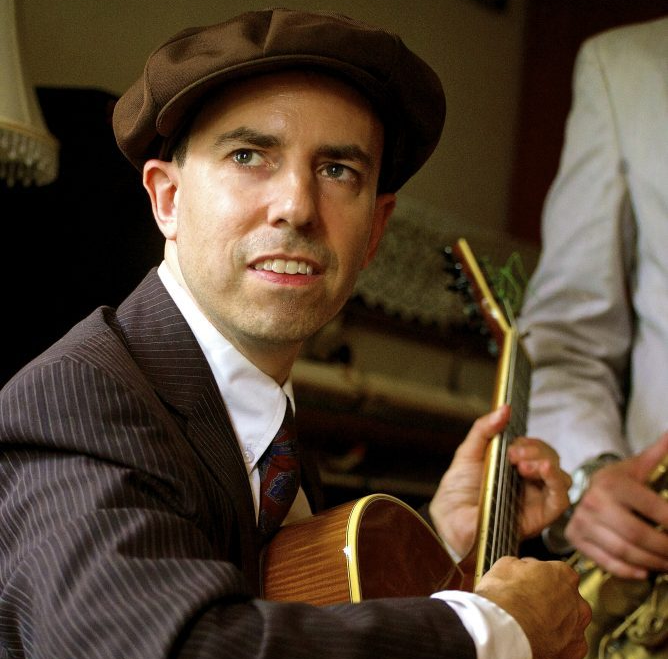 Nick Russo, B.S., M.A. – Music Lessons
Dive deeper into music, light your passion, and make the music you imagine, with the guidance of a top NYC musician who cares about your life long learning.
Guitar, Banjo, Ukelele, Mandolin, Bass, Keyboard, Resonator/slide, Lapsteel, Drums, Percussion, Composition
Online through Zoom, Skype, FaceTime, Google Meet. In-person: Forest Hills, just outside Gardens, within walking distance from 71st, Continental.
Teaching Artist Residencies & Enrichment Programs
ukulele, guitar, drums, band, ensemble, etc.
With over 30 years of teaching experience, Nick Russo is patient with children & adults. He has a creative, unique pedagogy emphasizing hearing through singing, ear-training, natural, organic listening, improvisation and composition.
Nick instills healthy absorption of music while students have fun learning their music, sight reading, internalizing with focus on rhythm and time.
Each student works on music that she/he selects while developing musicianship such as sight-reading, technique, ear-training and time.
Rather than rote teaching and guitar tablature, Nick instills natural listening, transcribing, sight-reading standard notation and proper technique. Lessons are enjoyable as Nick observes each student's unique needs and listens to their individual repertory preferences and musical goals. Students have the opportunity to learn pieces and genres they select asthey are trained to figure out tunes by ear (ear-training) and transcribe. They are also encouraged to compose their own original music.
Students also work out of method books and use other wonderful sources of information.
Instructor Bio (Nick Russo)
✓ Over 30 years teaching & performing experience
✓ B.S. from Stony Brook University
✓ Performs at Lincoln Center, Carnegie Hall, Iridium, Blue Note, Birdland, Smoke, 55 Bar, Live On The Levee, IsIs Music Hall, Blue Plate Special, on numerous radio/TV shows and around the world
✓ Jazz Project Artist for Kupferberg Center at Queens College, teaching master classes (10+ years entire program's exsistence)
✓ Published author of Metallica's Legendary Licks  Vol I & II
✓ Nick Russo worked with past legends Jimmy McGriff, Joe Ascione (with Frank Vignola), Sonny Dallas, Teddy Charles, has worked with actors/musicians: John Lithgow, Jim Dale, Antonique Smith, Rob Morrow and continues to perform/record with Jon Batiste (Colbert show), Russell Hall, Ruben Fox, Miles Griffith, Gordon Au, Terry Waldo, Vince Giordano & Night Hawks, Victor Jones, David Pleasant, Kim Clarke, and many others.
✓ Appears on NBC Good Morning America
✓ Appears in PBS Masterpiece: The Chaperone
✓ Appears in Sam Mendes film: Away We Go
✓ Plays guitar on the soundtrack for PBS Kids Peg Plus Cat and the independent film, King George
✓ Broadway: Big Apples Circus
✓ Off-Broadway: A Jew Grows in Brooklyn, Take Me Along and many others
Private Lesson Studio Equipment
Chairs, music stands, instrument stands, classical guitar cushion, classical footstool, piano, keyboard, organ, guitar amps, guitar, banjo, mandolin, ukulele, drum set. Students usually provide their own instruments but it's possible to borrow an instrument during the lesson at the studio on the first lesson.
(free street parking right in front!)
Live performance and educational videos:
Recommendation Letters & Student Recommendations
P.S.101Q           THE SCHOOL IN THE GARDENS
2 RUSSELL PLACE, FOREST HILLS, NY  11375 PHONE (718) 268-7230 , FAX (718)575-3571 WEBSITE: PS101Q.ORG
August 5, 2019
To Whom It May Concern,
I am pleased to write this letter of recommendation for Mr. Nick Russo.
I worked with Mr. Russo as the teacher on site in the Midori ukulele program, 2018/2019.
The class met two times a week.
He was always on time, prepared and an highly effective communicator. We discussed the plan for the day, any special needs a student may have and concluded with a wrap-up and plan for the next meeting.
Mr. Russo has shown an ability to teach students at all grades and levels of competency.
He allows the students to have input in their learning as he stays true to the curriculum.
His knack for boosting a student's confidence and his patience makes the learning experience fun and enjoyable for students. Mr. Russo was direct and clear in his expectations of the students and maintained a fair and calm demeanor.
The students would regularly speak very highly of Nick and his efforts.  They especially responded to Nick's style of teaching. His virtuosity as a musician, his knowledge and respect for world cultures and his kindly manner was valued by all in the classroom. The cultural history of music shared by Mr. Russo helped give the students a background and deeper understanding which boosted their interest in the class.
The culminating performance was well attended by the parents and received accolades!
Nick recognized the importance for the students to develop the show cooperatively in order for them to own their responsibility, performance and enjoyment.
Many of the children asked their families to purchase a ukulele so they may continue the musical growth that Mr. Russo inspired.
Mr. Russo's dedication to teaching, his wide range of musical skills and obvious love of music
make him a real asset to any educational setting. He adds quality, both personal and professional to a school community.
Sincerely,
Rhonda Corin, Teacher
P.S.101Q           THE SCHOOL IN THE GARDENS
2 RUSSELL PLACE, FOREST HILLS, NY  11375 PHONE (718) 268-7230, FAX (718)575-3571 WEBSITE: PS101Q.ORG
July 6, 2019
To Whom It May Concern,
Mr. Nick Russo has been the resident artist for our afterschool Ukulele program for the past two years. This program was highly successful due to his professionalism.
He has an excellent rapport with students.  He worked collaboratively with the teacher in charge and encouraged parental involvement. He was extremely patient with students who were struggling in the class; a quality that didn't go unnoticed!
Mr. Russo always communicated with me as the supervisor in charge whenever there were any problems or concerns.
I recommend Mr. Russo without reservation for any future endeavors he may seek to engage in working with students.
Sincerely,
Irtis Gonzalez, Assistant Principal
Queens College Kupferberg Recommendation Letter available on request
Ann – Oct 12, 2013, Guitar
Exceptional, musically rich learning
Nick is a terrific, terrific teacher whose main goal is to nurture my son's love of music and instill the idea that learning to play guitar or drums is not hard, it's unfamiliar and my son has been learning from Nick since he was 7 years old. I love watching Nick balance solid technique with fun. Like taking a contemporary song that my son loves and teaching him to play a portion of it. Or inviting another student (or sometimes even a professional musician) to sit in on a lesson and jam with my son. Nick is teaching the whole person, not just their fingers on the guitar. He really cares and I would recommend him to anyone!
Sarah M – Mar 19, 2019, Acoustic Guitar · In studio
Nick has been teaching my 7 year old guitar for one year now. His excellent, progressive curriculum, patience, and allowing my son to pick some of the music has fostered a joy in his playing and even the work that goes into learning a difficult instrument. My son even "teaches" me a weekly lesson. I couldn't recommend Nick enough!
Melissa – Apr 2, 2019, Ukulele · In studio
Nick Russo is a fantastic tutor for kids and adults who would like to learn Ukulele, guitar, banjo or other instruments. He makes 'learning fun' he's friendly and cheerful. I don't have any background in music but, Nick made it easy for me to understand the notes and how it works. I always look forward to every lesson. I Highly recommended Nick to everyone.
James B. – Jan 2, 2015, Guitar
Exceptional musician. Skilled and patient teacher.
I have been taking weekly guitar lessons with Nick for nearly four months now and it has been all I hoped for and more. As a recent retiree and amateur musician one of my goals is to rapidly improve my novice guitar skills. I was looking for a teacher who would push me hard but was willing to work with the particular songs and musical questions that I might bring to him each week. I could not be more pleased. Nick is able to immediately bring his knowledge and experience to any material that I bring to a lesson and he uses it as the basis for a wide range of teaching moments – whether it be technique, harmony, or improvisational approach. What I didn't anticipate was the extent to which his holistic, listening (and singing) based approach to playing an instrument has challenged me. Nick is making me a better musician not just a better guitar player. (And it is very helpful that he types out notes on all that we discuss and sends an email following each lesson.)
Koji Y. – Dec 24, 2014, Jazz Guitar
Mr. Nick R. is an absolutely great guitar player and music instructor. I'm a young professional jazz guitarist and instructor and have been taking jazz guitar lessons with Nick R. weekly since September of 2014. Every lesson, I receive a lot of information that I didn't know before and Nick always give me proper quantity and quality of task
Many ideas, information from his suggestions, including how to practice myself and instruction that goes beyond musical and guitar technique, also including psychological and philosophical concepts from Nick's experience and knowledge. His explanations are incredibly clear and easily to follow.
I've been playing guitar over 15 years. In my experience, it's very, very difficult to find a mentor like Nick Russo.
I truly appreciate meeting him and have tremendous respect for Professor Russo.
Thanks as always Nick!!
Koji Yoneyama (professional jazz guitarist and instructor), Dec. 23, 2014
Shimun (Sam) A. – Nov 23, 2014, Acoustic Guitar
You can say that I'm a rookie when it comes to playing guitar. So, I decided to do something about it. I'm taking 45 minutes sessions with Nick and I have to say that he is a really talented a teacher as well as he is a musician. While having fun during the lessons, I rake in so many new tricks up my sleeve. I love his individual approach, flexibility, and creativity just to outline a couple. For the short while that I've known Nick, he's been all, a patient teacher, a talented musician, but most of all he's been an inspiration to me. My goal was to learn to read music and learn how to play the instrument more fluently. But now, the whole world of new and fascinating opportunities opened up to me because of his mentoring and support. Thank you Nick! I wish I could take longer sessions with you on a more regular basis.
Tom N. – Feb 8, 2014, Guitar
Highly Recommended
I've taken classes with Nick in a group setting (at Jalopy) and privately, and while I studied guitar as a kid and trombone in school, and I've never had a better music teacher. And I do mean music teacher, not just guitar teacher – Nick's approach is to start with the MUSIC you want to play, not just the guitar as a collection of strings and frets or a series of fingerings to memorize. He's realistic about where people are starting and how much time and energy they have to devote to the instrument with all else happening in their lives (school, work, family, whatever), but he really wants all his students to get better, to learn and progress and love the music like he does, and leads by example of his own musicianship and dedication to the art form. Highly recommended for all levels, all styles.
Jerry F. – Aug 11, 2014, Jazz Guitar
Finally found a guitar teacher who provides individualized instruction based on what I know and don't know. I previously depended on my guitar to make music. Nick showed me how to make the music yourself in your head and then find it on the guitar. He has great patience and also answers every question . And, most important for me, he writes out the lesson notes at the end and sends them. Every previous teacher told me 20 things in a lesson and I remembered two. Nick makes sure that every minute of my lesson is given proper attention.
Bob T. – Oct 7, 2019
This was my first lesson with Nick. He is a very nice guy. He created a calm, relaxed atmosphere in his studio, and he was clear when he gave me particular instructions. His knowledge of music theory in general, and of the five-string banjo in particular, was quite impressive. I would recommend him highly to both a beginner and to anyone (like myself) who is in need of a refresher course. I am very much looking forward to my next lesson.
Bill – Mar 22, 2019 Guitar · In studio
I've been taking guitar lessons with Nick now for a few months and it's been a terrific experience — cannot say enough good things. Each lesson builds on the last and Nick tailors them to my ability and musical interests mixing in enough music theory, which makes learning both productive and enjoyable. Most importantly I feel like I'm beginning to understand how music works and not just blindly memorizing patterns or scales. I considered online courses before choosing Nick, but there's no substitution for one-to-one instruction. Nick's feedback and instruction are invaluable.
I was a little concerned about trying to pick up guitar in my early 40s, but its been a rewarding experience so far and I'm looking forward to more lessons with Nick.
Ramsey – Jan 21, 2016, Banjo
Nick took me on as a banjo student and did an amazing job of quickly finding out how much I already knew and then ran with it, pushing me further while letting me direct us into areas that I wanted to pursue. He's very patient and insanely knowledgable. Every lesson has been packed with a ton of information, practice, instruction and music theory. (He's also a very nice guy to have a conversation with.) I couldn't recommend Nick highly enough as an instructor.
Donna Q. – Dec 26, 2015, Acoustic Guitar
I've been taking lessons with Nick for a few months now and it's been a really positive experience! I have no guitar experience at all so I'm coming in as a true guitar novice. Nick takes time to explain techniques and encourages you to "listen" to the notes and to hear how the music comes together. He's very patient and definitely has a wealth of guitar knowledge. If you're looking to learn guitar, then I'd definitely recommend Nick!
Sabrina S. – Jan 21, 2015, Acoustic Guitar
I started my lessons with Nick just one month. I know I am inquisitive, intense, overly involved and very detail oriented with my interests in general and I treat guitar the same way. I enjoy and immerse myself into it. I think Nick has a very broad knowledge of guitar playing and comes across as a very conscientious instructor in the way he handles my overachieving demands. I would surely recommend him.
Bryan – Oct 8, 2016, Guitar
At just my 1st lesson with Mr. Russo — HE'S THE MAN!!! Very concerned with getting the most out teaching/reaching the student!!! HIGHLY RECOMMENDED
Taylor – Feb 3, 2016, Ukulele
Nick was a terrific teacher — very enthusiastic and encouraging. He knows what he's talking about as well. He definitely breaks things down so even beginners like me can follow along and understand.
Sara G. – Oct 3, 2016, Ukulele
Great musician, great instructor. Learned more than I ever thought I would be able to at this age. Very patient.
Robert – May 24, 2016, Banjo
Nick was quick to assess my ability and direction and we made immediate progress
at a comfortable pace.
Eric Falconer – Jan 30, 2016, Guitar
Nick has been a great teacher so far. He's patient and takes the time to adapt to my current strengths and weaknesses in order to tailor the lesson to fit my needs. Highly recommended.
Matthew H. – Jan 18, 2017, Guitar
He does a great job cater the lessons to your needs
Kevin – Jan 4, 2016, Banjo
Nick is very talented, knowledgeable and patient. He communicates material extremely well and is a pleasure to work with.