Welcome to Garden Players' Press and Testimonials page! Here you'll find a collection of articles, reviews, and quotes that showcase the positive impact our theater group has on our audiences and the community. We're proud to share these testimonials with you and hope they give you a glimpse into the passion and dedication that goes into every Garden Players production. So take a look around and see what others have to say about their experience with us.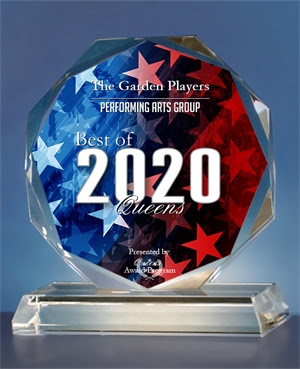 The Garden Players Receives 2020 Best of Queens Award
"Each year, the Queens Award Program identifies companies that we believe have achieved exceptional success in their local community and business category. These are local companies that enhance the positive image of small business through service to their customers and our community. These exceptional companies help make the Queens area a great place to live, work and play." – Queens Award Program
Every year since 2004 we have put on an original musical. All of our Queens Gazette press can be found here. Browse below to enjoy a few!
As a small, local, word-of-mouth community theater, we feel incredibly grateful for the support and creativity of our community. Thanks to you, we're able to thrive and create socially conscious musicals that educate and inspire children. Your continued encouragement and involvement are what keep us going, and we can't thank you enough for being a part of our journey. Here are a few of your testimonials.
Kids love Garden Players!
In their own words
Kids often say it best, so we had to ask them what they love about Garden Players. They talked about being on the stage, what they learn, and what advice they have for other kids. They said Garden Players helped them to…
"Find a community of friends"
"Learn to be brave"
"Step into the spotlight."
"Theater spreads messages."
"The show looks like Broadway."
"It's a really good way to socialize."
"Be onstage, learn how to practice, use techniques to become a professional actress."
"Betina never gives up and understands your mistakes."
"The class is really hard but that's good because then students get even better!"
"This is my future. I can express who I actually am. Whenever I perform I show the optimistic version of myself."
"If you're feeling nervous, remember, everybody out there has come to see you. It's your night!