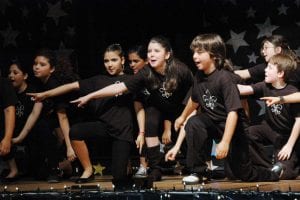 America's Top Ensemble Plays On In Forest Hills
By Alena Gerst daiky
If you had asked Betina Hershey six years ago where she saw herself in 2009, you may have gotten a response something like this: "Well, I'm a full-time professional, musical theatre performer and swing dancer, but I'm going to try writing, composing, directing, chreographing and producing original musicals for kids in Forest Hills. I'll see how that goes for about five years, and then who knows?"
Much to the benefit of Forest Hills families, this season's production of America's Top Ensemble marked Hershey's sixth year with the Forest Hills Garden Players. The community is hoping that means she and long-time collaborator Denver Casado, in his fifth year with the Garden Players, who develop and mount a new all-original musical for kids each year, plan to stick around for awhile.
This year's musical is as much a goofy spoof on the famed "American Idol" television show as it is a meaningful lesson for the times in which we live. The story involves three judges whose names are spinoffs of the originals on prime time: Maula Amul, Handy Paxton and Diamond Powell, and three groups of competitors, the "Burtsfield Balladeers" from Kentucky, the "Juvies" from the slammer, and the "Drama Kids" from a "Dramatically Distinguished School of Dramatic Arts".
Hershey is astute in her silliness, sprinkling it throughout the show in a way that only kids know how to pull off. But amid the smiles, guffaws, and toe-tapping musical numbers, the Garden Players always have a take-home message, and this year it is as simple as the title implies, "When you work together as an ensemble it's as if you've opened a door. You start as one but when you're done you are one of many more."
Hershey and Casado's musical numbers run the gamut from a hoe down by the Balladeers, to the more pop/contemporary Juvies, to the traditional musical theatre style of the Drama Kids. Standout numbers included a duet sung by Katharine Keane and Megan Bloch, complete with boas and French berets, strong harmonies and dancing by the Juvies in "What are we here for?", the hilarious "Hansel and Gretel" opera performed with gusto by the Balladeers, and the showstopper of the night, "Always in the back" by the Drama Kids. Isabelle Romero-North was a vocal star singing "Alone in this world' a cappella, and Matias Weilmann comically captured Randy Jackson's real-life "DAWG" cheesiness.
With 51 sparkling personalities on stage singing their respective parts, and 102 arms and legs to coordinate, one wonders how Hershey and Casado manage to pull off such smart, endearing shows year after year. The Garden Players' production of America's Top Ensemble was one fun show, whose message was no joke. In the words of cast member Paige Levy, almost seven years of age, "We got to laugh and have fun and make mistakes. It's important that we try new things." And equally as important, Emily Scarpati, age seven, said, "It was good to practice, to finally get this thing right so our work will finally pay off. We worked together." And that's a take-home message for all of us.