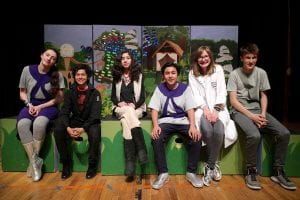 "Switch It Off," the newest original Garden Players family musical by Sunny Knable and Betina Hershey and performed on May 19 and 20, 2018, is very much of the times. During our own daily lives, many of us are immersed in our devices and can have a difficult time switching them off. This musical delves into this topic with layers of futuristic fantasy and fun.
Part of the fun of "Switch It Off" is that we get to see the actors playing the parents in the musical, not the kids, needing to learn how to switch off their brain chips. Because the parents just won't take a break, their brain chips break down, causing them to forget they ever had kids. The kids are left trying to figure out how to get their parents back to normal.
Possible help comes from the Hackers who hack knock-knock jokes, the earthy Rebels who are against all technology, and those distracted scientist Coders who dreamed up the chips in the first place. Silly moments include one of these coders, Magris, stuck in a wormhole and spinning across stage calling out "I'm fine. Don't worry about meeeee," while dressed in a lab coat and goggles. Another fun moment is when one of the smallest actors has to follow the parents around like a spy to make sure they don't get into any trouble or wander off too far.
Book and lyrics writer and director Betina Hershey was inspired to write about brain chips by an article in Wired magazine. It mentioned that people with Alzheimers are already getting brain chips to help them to remember, and within this lifetime healthy people may start utilizing brain chips to improve brain functioning. "Switch It Off" is a fun kids' musical inspired to help us all think about technology in our lives and to remember to Switch It Off. In fact at the end of the musical, the entire cast shouts out mid-song, "Technology is great in moderation. Use it wisely. And don't forget to switch it off." This is advice it would be wise for us all to follow.
To delve further into tech, check out Wired magazine for all kinds of info about technology in moderation, and CommonSenseMedia.org for articles and recommendations about kids using tech.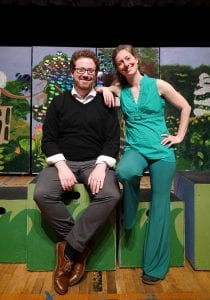 The Garden Players Musical Theater Program for Kids is a great way to take a break from technology. It stars actors from grades 1-8. These actors learn to work as a team, develop practicing habits, confidently express themselves onstage, and really learn to perform like professional actors. There was a moment during "Switch It Off" when an important actor forgot to enter, but this didn't stop the show. Actor Dylan Rojas-Pederzini was able to improvise in such a way that unless you talked with the actors afterwards you never would have known anything was missing. This kind of improvisational ease is a true professional feat.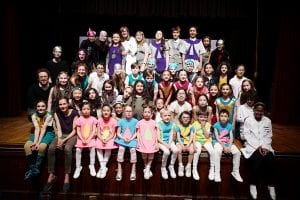 Besides the actors, there are many others involved in the production. Top notch city musicians Harvey Wirht (drums), Nick Russo (guitar), and Sunny Knable (composer and keyboard) kept the "Switch It Off" scene changes full of excitement. The parent volunteers designed costumes with flair, including kid costumes with hoops in the bottom designed by Jennifer Lee. The sets were beautifully painted and designed by Christy Lin and Gina Florentino-Diaz, with one fun touch being the use of shiny silver cds as tree leaves. Garden Players alumni were backstage working the lights, moving the sets, helping the actors, and even working as assistant directors. In the audience Jennifer Giuffre, an alumna said, "Watching the show made me want to come back next year and help out backstage. It really touched me."
Classes start up again in the fall with acting improvisation, theater games, vocal techniques, monologues, scenes, and another fully staged original musical! Info available at www.gardenplayers.com
— Rose Rensselaer