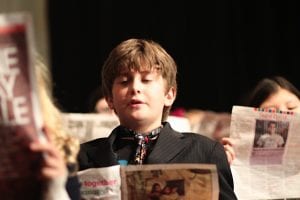 The Forest Hills Garden Players are making magic happen yet again. 
For eight years running, Betina Hershey Russo and Denver Casado have conceived, written, composed, cast, directed, and choreographed the world premiers of their clever, witty and completely original musicals for children. This year's production is The Grunch Who Stole The Show.
Several other Garden Players' productions Russo and Casado are licensed to be re-created by children's theatre companies and schools across the globe, and The Grunch will be featured in festivals in Washington D.C. and Manhattan later this summer. 
The Grunch tells a story of a drama group preparing for their musical to be reviewed by every notable critic in New York City. But little do they know, the title character, played adeptly by Gabriel Kahane, who is 12 years old and in his fifth year with Garden Players, and his sidekick Mills (Mark Perkins) are outcasts who don't understand what all the hoopla is about, so they scheme to ruin the show by highjacking all of the costumes, set pieces and props.
What the Grunch fails to recognize is that a show is more than the sum of its parts.  The song entitled "All Part of the Magic" becomes the show's deus ex machina as the Drama Group and Junior Stars muster the ultimate "show must go on" attitude.
The Grunch is chock full of production numbers, strong and confident voices, and big finishes.  As always, Hershey Russo and Casado sprinkle their signature wit throughout the script to keep adults and theatre lovers on their toes with references to a production of Hamlet being tweeted, choreography in homage to Bob Fosse in the white-gloved song "Jazz Hands", "The Train to Whoover" in which the critics channel The Music Man in a feat of comic timing, and the professional magician Kahane's Grunch, who nails the patter song a la Gilbert and Sullivan in his solo "More Like Me".  
Among the standout performers is Celene Garcia, age 14, who plays the Diva, and belts out the lyrics "Someday I'll make the perfect pickle" with a straight face. In recalling her cast mates, Garcia says, "These people are so strange and crazy and awesome."
And of working with Hershey Russo and Casado, Garcia says, "It's fun, but it's also serious. It's a play. It's not just hanging out."
Garden Players is also a family affair with Garcia's sister Michelle, 12, in the cast too, who reports that working on a show "helps me express the real me".
Other standouts include Shay Baxter who plays "Collin" from the Drama Group, just returning from Shakespeare camp, and Matthew Levy who plays "Chris" the ping-pong player. Ula Pranevicius, age 9, who plays the New York Magazine critic, is in her first year with Garden Players, and says she appreciates the directors telling her when she's doing something wrong, but are still kind.
The biggest crowd pleaser by far was a number called "Three Feet Tall", performed by the littlest cast members with the biggest attitudes, reminding the audience that this is not just any kids show, but one that is created and produced by professionals who expect quite a lot. Sophie Yaharian, age seven, puts it simply when she says, "Making a play start to finish is amazing."
So it is only fitting that in the end, the Grunch fesses up to his antics and joins in the fun when he realizes that he could take away the props, set pieces and costumes, but he can't take away the magic.