There are endless ways to celebrate Black History Month, and I strive within my own family to celebrate black history and diverse history throughout the entire year, not just this month but always.
Let's read about issues in news and newsletters, talk to each other, watch inspiring movies, read books, and talk with our kids. We all need to do our part of increasing awareness and making positive changes towards true equality in our communities and around the world.
I highly recommend the Anti-Racism Daily Newsletter, the Spotify Black History Month On Broadway, the movie Hidden Figures, the diversity focused OmniCircus, the honest and engaging "a kids play about racism", The Wiz, and I'm looking forward to diving into even more books, movies, and artist discoveries!
I also celebrate the musicians I work with. Miles Griffith & David Pleasant make music with myself (Betina Hershey) and Nick Russo in our band Banjo Nickaru & Western Scooches and appear in this video of our title song Get Us Out Of Fearland. This original song written by Betina Hershey is inspired by the energy and the Gullah Gee-Chee rhythms of David Pleasant. David Pleasant has his own TED Talk about Riddimic Harmony.
Explore Plays & Musicals:
Please enjoy exploring the list of books, plays, musicals, and links below. Have any suggestions? Let me know and I'll add them to my list!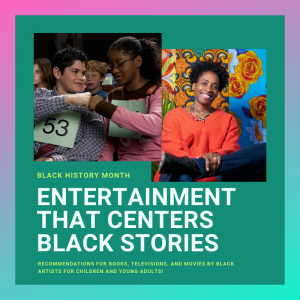 OmniCirucs
A circus dedicated to celebrating diversity. My kids and I enjoyed the signing and hearing from the circus artists themselves.
Spotify Playlist – Black History Month On Broadway
Spotify Playlist – Black History Month On Broadway
a kids play about racism
(Ages Pre-K to 5th)
See Clips of the Show
Watch the book that inspired the play read by the author on YouTube
Audience Guide
Educators & Homeschoolers fill out a form to share this play for free
Dream Girls
Dreamgirls soars with an amazing story of three female singers who learn that anything is possible when you hold on to your dreams.
The Wiz
The Wiz is an extravagant re-imagining of "The Wizard Of Oz" with pop superstars Diana Ross and Michael Jackson, co-starring Richard Pryor, Nipsey Russell. Music by Quincy Jones.
Articles about Broadway Musicals & Artists for Black History month
Innovative Contributions to Shows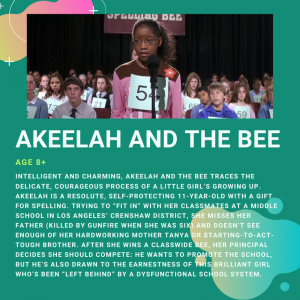 Movies:
Akeelah And The Bee
(Age 8+)
Intelligent and charming, AKEELAH AND THE BEE traces the delicate, courageous process of a little girl's growing up. Akeelah is a resolute, self-protecting 11-year-old with a gift for spelling. Trying to "fit in" with her classmates at a middle school in Los Angeles' Crenshaw district, she misses her father (killed by gunfire when she was six) and doesn't see enough of her hardworking mother Tanya or starting-to-act-tough brother. After she wins a classwide bee, her principal decides she should compete: he wants to promote the school, but he's also drawn to the earnestness of this brilliant girl who's been "left behind" by a dysfunctional school system.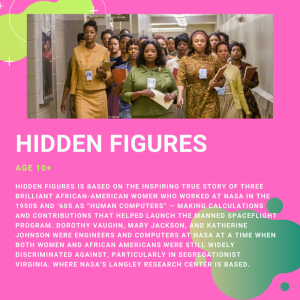 Hidden Figures
(Age 10+)
Hidden Figures is based on the inspiring true story of three brilliant African-American women who worked at NASA in the 1950s and '60s as "human computers" — making calculations and contributions that helped launch the manned spaceflight program. Dorothy Vaughn, Mary Jackson, and Katherine Johnson were engineers and computers at NASA at a time when both women and African Americans were still widely discriminated against, particularly in segregationist Virginia. where NASA's Langley Research Center is based.
Books:
Ambitious Girl
(Age 4-8)
Anyone who's ever been underestimated or overshadowed will find inspiration in this empowering new picture book Ambitious Girl from Meena Harris, New York Times-bestselling author of Kamala and Maya's Big Idea, which is based on a true story about her aunt, Vice President Kamala Harris, and her mother, Maya Harris.
Superheroes Are Everywhere
(Age 3-7)
By Kamala Harris
From Vice President Kamala Harris comes a picture book with an empowering message: Superheroes Are Everywhere. And if we try, we can all be heroes too. Now a #1 New York Times bestseller!
A kids book about racism
(Ages 5+)
Book read by the author on YouTube.
Buy the book Get $5 off the book with code KIDSPLAY!
(Ages 4-8)
Winner of the Coretta Scott King Illustration Award! From a New York Times bestselling author and an acclaimed illustrator comes this vibrant portrait of Aretha Franklin that pays her the R-E-S-P-E-C-T this Queen of Soul deserves.
Aretha Franklin was born to sing. The daughter of a pastor and a gospel singer, her musical talent was clear from her earliest days in her father's Detroit church where her soaring voice spanned more than three octaves.
Before the Ever After
(Age 9-12)
Before the Ever After, by Jacqueline Woodson, won the 2021 Coretta Scott King (Author) Book Award. It's a novel in verse narrated by a 12-year-old boy who witnesses his professional football player father's physical and mental decline from chronic traumatic encephalopathy (CTE), a progressive degenerative condition that can result from repeated blows to the head. The book explores the boy's feelings of confusion and worry and could be helpful for any kid going through a family health crisis.
Also by Jacqueline Woodson, Brown Girl Dreaming is a powerful memoir that tells the moving story of her childhood in mesmerizing verse. A President Obama "O" Book Club pick.
Also by Jacqueline Woodson, Brown Girl Dreaming is a powerful memoir that tells the moving story of her childhood in mesmerizing verse. A President Obama "O" Book Club pick.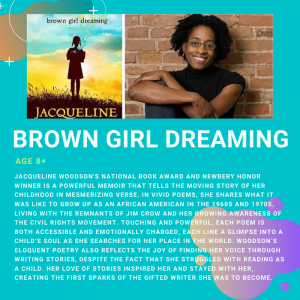 (Age 8-12)
From debut author Lisa Moore Ramée comes this funny and big-hearted debut middle grade novel about friendship, family, and standing up for what's right, perfect for fans of Angie Thomas's The Hate U Give and the novels of Renée Watson and Jason Reynolds.
Twelve-year-old Shayla is allergic to trouble. All she wants to do is to follow the rules. (Oh, and she'd also like to make it through seventh grade with her best friendships intact, learn to run track, and have a cute boy see past her giant forehead.)
But in junior high, it's like all the rules have changed. Now she's suddenly questioning who her best friends are and some people at school are saying she's not black enough. Wait, what?
Schomberg, The Man Who Built A Library
(Ages 9-12)
In luminous paintings and arresting poems, two of children's literature's top African-American scholars track Arturo Schomburg's quest to correct history.
Where is our historian to give us our side? Arturo asked.
Lifting as We Climb: Black Women's Battle for the Ballot Box
(Ages 10-12)
For African American women, the fight for the right to vote was only one battle.
This Coretta Scott King Author Honor book tells the important, overlooked story of black women as a force in the suffrage movement–when fellow suffragists did not accept them as equal partners in the struggle.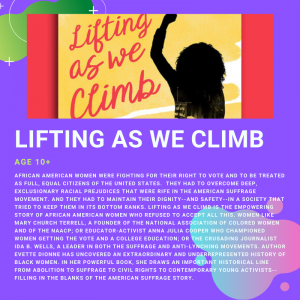 Talking About Race With Children
BOOK SUGGESTIONS:
For Kids:
A Kids Book About Racism, by Jelani Memory
Not My Idea: A Book About Whiteness, by Anastasia Higginbotham
Racism Explained to my Daughter, by Tahar Ben Jelloun
Read-Alouds for Kids:
Woke Read Alouds
For Adults:
So You Want to Talk About Race by Ijeoma Oluo
How to Be an Antiracist, by Ibram X. Kendi
White Fragility, by Robin DiAngelo
Join the Anti-Racism Daily Newsletter
I heard about this one from a musician friend and highly recommend the content. Try it out and see how it opens your own eyes.
Find Social Justice Books
ONLINE RESOURCES:
Top 5 Reason Well Meaning White Parents Do Not Discuss Race with Their White Children
Talking about Race: An excellent online resource put out by the National Museum of African American History and Culture.
Raising Anti-racist White Children: Online training for parents and educators on how to prepare white children in our increasingly multiracial society.
Raising Race Conscious Children: providing training and resources for engaging children about race.
Your Kids Aren't Too Young to Talk About Race: Resource Roundup
Anti-Racism For Kids 101: Starting To Talk About Race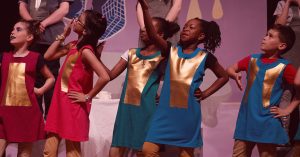 – Betina Hershey runs Garden Players classes, is a part of The Scooches (Banjo Nickaru & Western Scooches), teaches private lessons and audition preparation, writes musicals that have been published and performed in over 65 countries around the world, and has performed in musicals and bands worldwide. Garden Players students go on to attend La Guardia H.S., Frank Sinatra, Talent Unlimited, Professional Performing Arts School, and develop confidence to express themselves in front of others.
Contact Betina to schedule a consultation or private coaching now or sign up for the Winter/Spring 2021 Semester classes!
Subscribe to our newsletter for theater inspiration and Garden Players news.