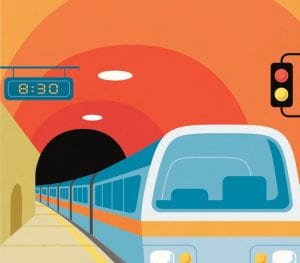 Betina Hershey Russo is the director of the Garden Players Musical Theater Program for Kids. As a singer and guitarist, she performs with her husband, Nick Russo throughout the area and throughout the world. She appeared as a principal dancer in Disney's Enchanted and in the Julia Roberts film, Mona Lisa Smile and has toured with numerous shows, including the National Tour of Phantom of the Opera, as Meg. Now a mother of two and a half year old twins, she enjoys seeing the world fresh from their eyes, and still finding time to be a professional artist.
So, What Exactly Do You Do With The Garden Players?
The Garden Players is a musical theater program for kids which I manage, produce, teach, direct and choreograph. We put on a benefit concert in January and then an original musical theater production in May.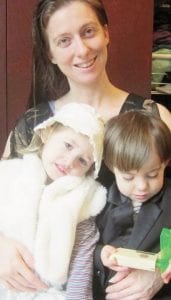 How do you come up with ideas for your performances?
I brainstorm, sometimes by myself, but often with my writing partner, Denver Casado. We try to think of ideas that we think would inspire the kids, be entertaining to the parents, and which we would love to spend time writing.
What made you choose to write your own performances? What are the benefits of using your own material?
I was a full-time musical theater performer who also wrote and performed my own music. When I was given the opportunity of taking over the Garden Players, I decided that I would only do it if I wrote the show every year, so that I would still be developing as an artist. It's wonderful to be able to look at the kids in the program and write roles that we think would fit them, to get ideas from them, and to be able to make small rewrites as we go along. We are also fortunate that Denver has created a publishing company, Beat by Beat Press, that has been getting our musicals performed all over the world. (www.bbbpress.com)
Why do you think it's important for children to be involved in community theater?
Being involved in theater is a huge confidence builder, helping with self expression, projection, imagination, and working together as a group. Community theater is always a group project with parents and kids volunteering to help paint, create costumes, find or make props, and more.
How does acting compare to directing?
As an actor you are using your body, your voice, your imagination as a tool of expression, listening to the director's ideas and trying to make them come to life. As a director, my job is to give the actors more insight into the meaning of the script and who their characters are, to make sure their ideas are coming across to the audience.
What was it like filming Enchanted?
Filming is a combination of hanging out waiting for long periods of time while the lights and other technical aspects are adjusted, and the fun and glamour of getting your makeup, hair, and costume change the way you look completely. I loved the food stations, being around all of the talented and passionate artists, and the whole process.
What have been some of the most satisfying moments for you working with the Garden Players?
I had a mother bring two little boys to my classes because she said they were so shy she wanted theater to help them open up. One little boy wouldn't say a word, and by the end of the year he was able to create a character that was both loud and entertaining. I loved that. When my Garden Players students come to me for help before their auditions for the performing arts high schools, I see them working so hard, improving their vocal techniques in leaps and bounds…what a joy.
You have traveled abroad to be in productions. What has that experience been like?
I loved spending time in other countries and other communities, eating new foods, experiencing new ways of living. It was such an adventure. The cast and crew also form strong bonds and become a family to each other. There are so many opportunities for meeting new people and exploring life.
What has been your favorite role?
I've really enjoyed so many roles. Meg in Phantom of the Opera was the most exciting, since I went on a two-year national tour; Anybody's in West Side Story—I got to be a tomboy, dance with the boys, be tough and gritty, and also tour through Italy, Lebanon and Japan. Playing the fast lindy dance role in Swing! the Musical was a blast since it combined my love of swing dancing and my love of musical theater. I loved getting to play the role of Jacky in Pump Boys and Dinettes, a small five-person musical with each character playing an instrument. They changed the role of Jackson to be a girl so that I could play the part, and I got to be the lead guitar player in the band.
You are part of a very talented and musical family. Tell us about them—how have they influenced you?
My father, Lowell Hershey, is a trumpet player and because of him I had free tickets to Paul Taylor, Alvin Ailey, Martha Graham, New York City Ballet performances. I got to see all of the Broadway shows he played including Peter Pan when I was around five and then I listened to the record every single night; and Big River when I was 10 and again loved listening to the record. My mother, Carol Hershey, was a pianist and a painter, and because of her there was always classical and jazz music on the radio at home, and I got to play piano with her or sing with her. Both my mother and father had an incredibly strong practice ethic and so I learned very early on that the most important thing was to be consistent and always practice. I was able to be very self-motivated, which is incredibly helpful for a self-employed person.
Do you feel that working in Queens has influenced you in any way?
I came back home to Queens after touring all over the place because I wanted to plant roots, feel like I was part of the community, and it has been wonderful to reconnect with memories and create new ones. I've been a Queens girl since my family moved from Manhattan when I was nine months old, and I love to be around the trees and the combination of quiet and bustle.
Do you see a lot of talent with the young people that you work with and teach?
The amount of talent is incredible and so inspiring. I have students who have agents and who have performed in commercials, movies, the US Open; gotten four call-backs for the lead role in the Broadway production of Mathilda; have been selected to appear at Carnegie Hall as winners of vocal competitions and more.
Are you planning on changing or expanding your program?
Every year I think about how everything went and I make changes. This past year I split my actors into two casts instead of one big cast, and found a way to get all of the ages to work together to foster more of a sense of community and more of a mentoring feeling.
Is there anything else you would like readers of the Queens Gazette to know about you?
I teach free ballroom dancing at Forest Park in the summers in June and July and in the final lesson, my entire band comes and plays all of the partner dance styles. More people should take advantage of this opportunity, so keep your eyes open for next year's park events. My husband, Nick Russo (guitar, banjo) and I (vocals and guitar) are always performing in many styles of music in venues throughout the city and the world. In January, we feature ourselves in the Benefit Concert, so that's another opportunity to come hear us play locally. Updates are on the www.gardenplayers.com Web site. For the past three years I've been working on creating a balance of taking care of my twins who are now almost three, and finding time to continue to be at the top of my creativity in my job. It's difficult but it gives me more understanding and appreciation of all of the parents who somehow find time to volunteer for the Garden Players as their creative outlet. I have also been forced to slow down, which is a great gift.