Dear Students, Grads, Parents, Friends, and Visitors,
There are so many incredible performers and musicians who are more available than usual during this pandemic, and you can make that work for you.
Searching for a music teacher can be overwhelming. It's nice to find someone you know. Someone top notch. Someone ready to listen.
I recommend Nick Russo! (My husband, yes!)
Guitar, banjo, ukulele, bass, drums, piano, keyboard, harmonium, and more…
Did you know my husband is a full time professional musician? He has a M.A. in Music from Queens College, is an author of the Metallica Legendary Licks Series, and has even jammed with Paul McCartney. Maybe you saw him at Jazz at Lincoln Center or on Good Morning America. Most likely you've noticed him playing guitar, ukulele & banjo at our Garden Players shows, or in video clips I've shared.
He is available to teach private lessons in a wide variety of instruments to beginners and professionals. (Our house is filled with fretted string instruments, drums, pianos, basses, harmoniums, and so many wonderful instruments. Yes, Nick plays them all!).
Maybe you didn't know that Nick also teaches kids expertly. He has been teaching private lessons to kids (online now), and was teaching ukulele classes after school at both PS101 and PS144, with a long resume of teaching.
Want to learn with a friend? Put your own semi-private class together.
"Nick Russo is a fantastic tutor for kids and adults who would like to learn ukulele, guitar, banjo or other instruments. He makes 'learning fun' he's friendly and cheerful. I don't have any background in music but Nick made it easy for me to understand the notes and how it works. I always look forward to every lesson. I highly recommended Nick to everyone."
UKULELE STUDENT MELISSA, APR 2, 2019
During the pandemic Nick has continued to record for various bands and artists including this Grand St. Stompers Album Swing In Place, has been performed at a few outdoor socially distant events, and he has been focusing on offering more of his time towards private lessons and small group classes created by you.
Private Lessons Available
Nick teaches guitar, ukulele, banjo, resonator, bass, drums, piano/keyboard, ear training, rhythm training, composition, and more
More about Nick Russo.
Contact Nick: nickrussoguitartrio @ gmail.com / text 516-982-7496
Rates:
Special Garden Players Friends Rate: $40 half hour (if purchasing a package of lessons)
One-Off Lesson Rate: $45 half hour
Semi-Private Lessons (with a friend or two): rates available on request
Betina, Garden Players director and professional performer, also teaches: voice, guitar, piano, monologues, H.S. audition preparation, songwriting, writing
Contact Betina through gardenplayerstheater @gmail.com / 917-204-5647
So many of our grads are still learning, performing, and creating art! Celebrating these grads: Carina Kahane, Isabella Perkins, Sonya Tempkin, Kelsey Hor, Ioana Preda, Nicole Zivkovic, John Buckley, Cindy Delaney, Nicholas Bompart. Photos from 2004 Lemontales, 2005 Finding Home, and 2006 Musicville. Thanks Victor Starsky Sr. for helping construct our gorgeous sets in 2004, designed by dad and architect Neil Parker. #throwbackthursdays bring my heart back home to #gardenplayers every time!
Our curated online learning resources for you to enjoy. There's so much to see, read, experience, and to learn.
Keep learning and connected to the Garden Players online in August with acting improv, play readings, writing prompts, and singing/songwriting. Tuesdays 4-6pm (in half hour increments)… we can pro-rate if you join late. And hey, it's online, so you can invite someone you miss!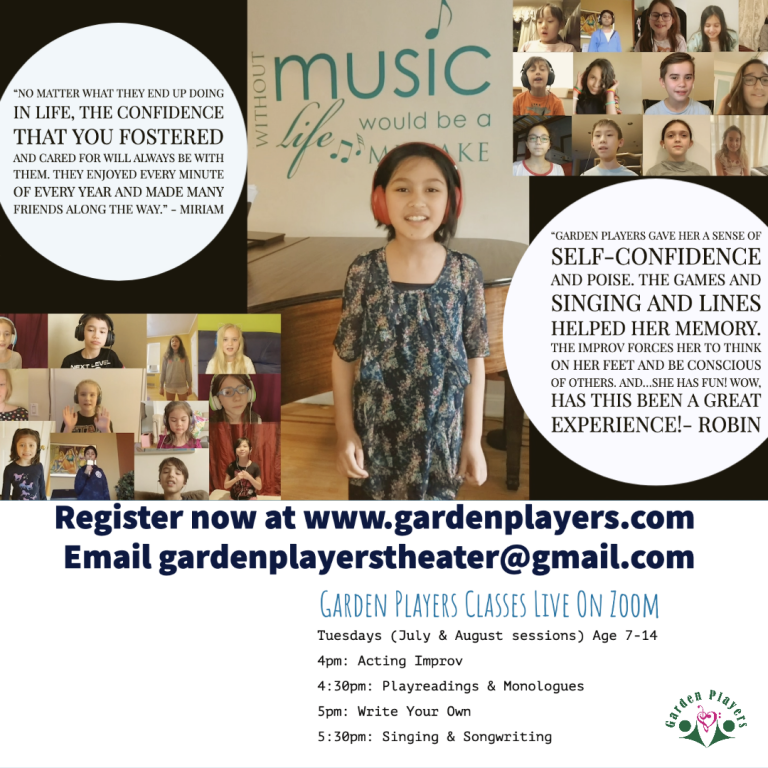 And check out the album Nick Russo recently recorded with Grand Street Stompers, Swing In Place (on Bandcamp).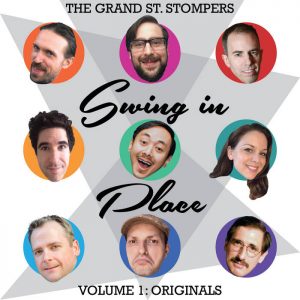 And to get our fun facts, theater videos and tips, and more, sign up for our newsletter.