Fun Broadway Facts, Throwback Thursdays, Summer Classes and more…
Want a little more Garden Players theater education and fun in your summer? I am recharged and ready to inspire and be inspired by you!
Fun Fact: If you have Disney Plus, you can watch Hamilton, the film version of the hit Broadway show starting this Friday, July 3rd. It's on my calendar! Check it out here.
Instagram & Facebook:
Follow us on Instagram & Facebook. We'll be posting Throwback Thursday pics and videos, and other fun stuff.
Facebook: @gardenplayers
Instagram: gardenplayerstheater
Wanna join us for Summer Weekly Classes?
Tuesdays:
4-4:30pm Acting Improv
4:30-5pm Play Readings, Monologues & Scenes
5-5:30pm Writing Our Own Monologues & Scenes
5:30-6pm Singing & Songwriting
Class Dates:
Session 1: July 7th, 14th, 21st, 28th
Session 2: August 4th, 11th, 18th, 25th
Class Cost:
Take a single half hour class for $20 per week. ($80 for 4 weeks/$160 for 8 weeks)
Two classes per week for $30 per week. ($120 for 4 weeks/$240 for 8 weeks )
Three classes per week for $40 per week ($160 for 4 weeks/$320 for 8 weeks).
All 4 classes for $50 per week ($200 for 4 weeks/$400 for 8 weeks).
Private Lessons (spots still available)
Wednesdays, Thursdays and Saturdays:
$40 for half an hour, $60 for 45 minutes, $80 for an hour
Guitar, Piano, Voice, Garage Band Recording, Monologues, H.S. Audition Preparation, Writing
Register here.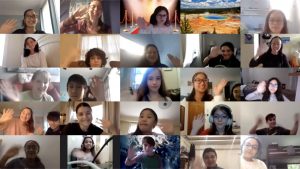 You can also find plenty of online links to wonderful resources on our online learning page.
Enjoy "You Need A Coconut" from our Spring 2020 online sharing.
If you have any other suggestions or theaterical fun to share, let us know!
Wishing you cool summer breezes, theatrical thrills, and so many songs,
Betina