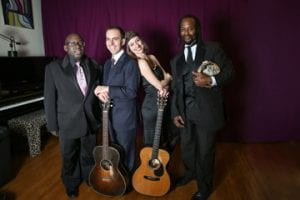 I wear two kinds of creative hats and I love them both: writing and directing my own original musicals for The Garden Players, and performing in both Hot Jazz Jumpers and Banjo Nickaru & His Western Scooches.
As director of the Garden Players I get to inspire kids and create positive content. I wrote my very first musical in 2004. Lemontales was a book musical with enough dialogue, lyrics and music to fill two full acts. Years of experience with kids inspired me to revisit my first work.
I love the characters, the plot, and many of the songs, but I knew that instead of a two-act musical, Lemontales needed to be reworked into a one-hour family musical.
This past May 16 and 17, the Garden Players performed the newly revised one-act version of Lemontales to full houses at the Community House in Forest Hills.
I was surrounded by support in this endeavor by Sunny Knable (our fearless Musical Director), Paige Levy (our Student Assistant Director and also Mrs. Crump in the Blue Cast), Tania LoPinto and Patricia Trillo (costumes), Rich Garcia and Jen Swanson and JT Lydon (set design and construction), Roseann Gaertner (playbill design), the Marks family (poster design), and so many more that I just can't mention them all. Many Garden Players alumni returned to donate their time backstage, including Sammi Arena, who has an amazing rapport with the kids and is an exceptional stage manager. Original cast members from 10 years ago returned to watch the show, including John Buckley, who originated the role of the very clumsy but heroic Nerkle, and is now a performing actor.
We may be a local theater group, but after the world premiere of performances by the Garden Players, our musicals often go on to reach kids and families all around the world. In 2010 Beat by Beat Press (www.bbbpublishing.com) was created by one of my co-writers, Denver Casado, with the aim to get high quality family musicals out to the world. Now, as far as Korea, children in theater groups and schools all over the world have been loving and performing the roles that originated here in Forest Hills with the Garden Players kids. Many past musicals written by myself and Denver Casado are available to groups to perform, including Space Pirates, The Grunch, The Most Epic Birthday Ever, Musicville, and We Are Monsters.
The Garden Players Musical Theater Program for Kids is getting ready for a whole new year of acting improvisation, concerts, and another original musical inspired by the kids in our classes.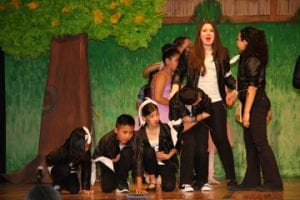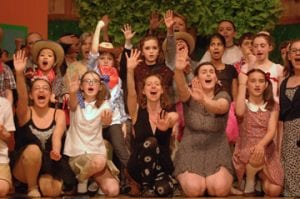 Registration is September 12 and 13, 12:30-2 pm at The-Church-In-The-Gardens, 50 Ascan Ave, Forest Hills, NY 11375.
My second hat, performing (vocalist/guitarist), is also taking some exciting turns. Hot Jazz Jumpers, a band my husband Nick Russo and I created last summer just recorded a CD/DVD, The Very Next Thing. Hot Jazz Jumpers performs Gullah-Geechee-influenced 1920s/30s jazz, music from New Orleans, country, blues, originals, and world music. Band members Miles Griffith, David Pleasant, and Nick Russo have been playing together for over 15 years, so we have a magical musical bond! The national release concert for Hot Jazz Jumpers' new CD/DVD, The Very Next Thing is Friday, November 6 at Pete's Candy Store in Brooklyn.
As everyone gets ready to start another school year, I am so blessed to continue doing so much of what I love and I wish the same for all of you.
For more information, visit www.GardenPlayers.com www.HotJazzJumpers.com; Beat by Beat Press: www.bbbpublishing.com.