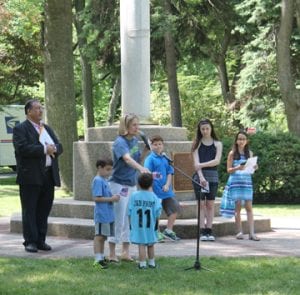 Forest Hills Gardens celebrated Flag Day a day early on Saturday, June 13. The ceremony commenced with a welcome message by FHG Corporation Board Member and Master of Ceremonies, Tony Barsamian. President Mitchell Cohen was on hand also, and helped coordinate the program's events.
The Procession to the Flagpole was led by the Boy Scouts of Pack 96, who also led the raising of the flag. Borough President Melinda Katz recited the Pledge of Allegiance, and lent her voice by singing the "Star Spangled Banner" to a cheery crowd. She also sang "You're a Grand Old Flag."
Featured were The Garden Players, led by their Musical Director Betina Hershey, who performed "Yankee Doodle Dandy," and other popular numbers from recent musicals. The children were enthusiastically welcomed by the audience.
The ceremony then proceeded to readings by the Forest Hills Gardens Flag Day Essay contest winners, Flamina Buganza, Ava Neumaier, and Abraham DeMarco, students from PS 196. After reading their essays, they were awarded with prizes by Barsamian.
State Senator Joseph Addabbo Jr. spoke to the crowd about the beauty of community. JR Nocerino represented Councilwoman Karen Koslowitz at the ceremony. Congresswoman Grace Meng supplied a flag from the capital.
—Anaé Petito