Here's some holiday cheer from our home to yours. Tongue twisters, a holiday sing-along, and our deepest thanks!
Sing some fun holiday sing-along songs with us. Grab an instrument, a shaker, some jingle bells, or draw a snowman and bring it along.
Holiday Sing-along Song Guide
This is a 20 minute sing-along video with lyrics.
You can pause in between songs for some quick, fun discussions.
Jingle Bells:

Before the song starts, suggest they can grab some bells or anything they can shake or even clap their hands for Jingle Bells.

Twelve Days of Christmas:

Stand up and try out the moves!
After the song, see who remembers the move for 12 lords a leaping, 11 pipers piping, 10 lords a leaping, 9 ladies dancing, 8 maids a milking, 7 swans a swimming, 6 geese a laying, 5 golden rings, 4 calling birds, 3 French Hens, 2 Turtle Doves, and a Partridge in a Pear Tree. Then play the last section again.
Do you have a move you would have chosen for any of the words?

Feliz Navidad:

What language is Feliz Navidad? Spanish. What does it mean? Feliz = Happy, Navidad = Christmas.

Frosty The Snowman:

Draw a snowman or create a snowman puppet of your own to move around during the song.

I Have A Little Dreidel:

What holiday does this song belong with? Hanukkah. When was Hanukkah this year? Dec 10-18, 2020.

Rudolf The Red-Nosed Reindeer:

Do you have a little puppet, stuffed animal, or drawing that you can move around like Rudolf? Bring back Frosty for this song, too, if that sounds like fun.

We Wish You A Merry Christmas:

The original words don't include Happy Hanukkah and Merry Kwanzaa. Why did they get added in? How many cultures and celebrations do you know of that are happening at this time? How can we include everyone we know?
Holiday Tongue Twisters
Want something fun to get your group laughing? These Holiday Tongue Twisters are less well known and will get your tongue tangled, for sure!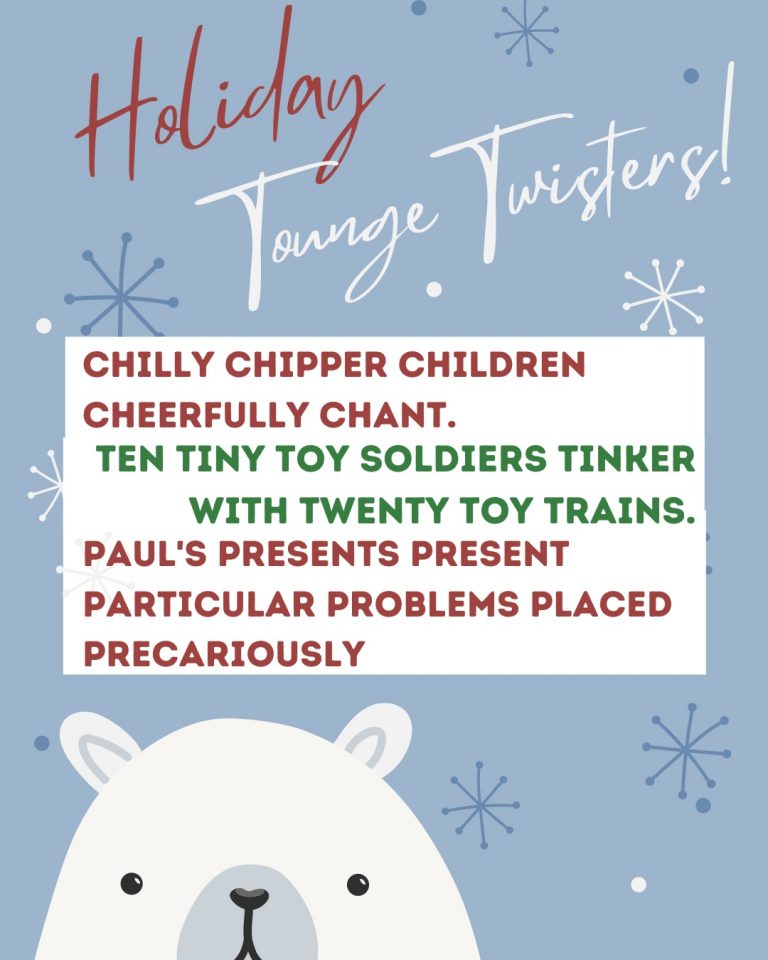 Thank you!
We are so thankful for our Garden Players theater family, friends, and supporters. You make all of this possible!
Our Winter-Spring Semester begins the week of January 24th, 2023. You can take a trial class the week of January 9th and 16th. Register now!
We hope you enjoy finding out more about us and how you can support us!
Have a favorite song we didn't play, or a tongue twister you love? Let us know! We inspire you and you inspire us!
**Share our free videos. Want more fun and more guidance? You can hire Betina and/or Nick at Garden Players to lead a school residency, school event, community event, or online family zoom experience. Send an email now to find out more.**
Sign up for our newsletter for more theater tips and news.
Follow our YouTube Channel for fun and educational videos.
Follow us on our socials and stay up to date with our program:
Facebook: @gardenplayers
Instagram: gardenplayerstheater
– Betina Hershey (vocals, director, performer and author of 5 childrens musicals with more than 2,000 performances in 65 countries) is a Teaching Artist at PS144 and runs Garden Players Musical Theater For Kids (online during COVID) at The-Church-In-The-Gardens.
– Nick Russo (ukulele, guitar, resonator, musician and author of guitar courses and Metallica educational books) teaches Ukulele after school at PS144 and private lessons locally in NYC and online.
– Lydian (vocals and guitar) and Seriana (vocals) enjoy music, writing, art, games, movement and creating stop motion.
– Paige Levy (tongue twisters design) is a Garden Players grad, teacher and performer.
Enjoy Garden Players Private Lessons (all ages), Classes (ages 6-14), and Family Improv Sessions (all ages)! With classes ranging from Acting Improv to Musical Theater to Songwriting, our program offers everything your child needs to let their creativity run free in a safe, caring environment. Send Betina an email now to find out more.