Should You Audition?
Auditioning for Vocal and Drama High Schools in NYC has always been an exciting and challenging prospect. If you are thinking about auditioning, yes! Challenge yourself.
But you must spend time researching and practicing. Learn how to prepare on your own, how a class or coach could help, what to look for as you choose your pieces. 
Below you will find advice from Garden Players grads who attended some of these schools. This next video will get you ready to take the next steps.
How Do You Get Started?
You will want to identify which schools to apply for, and what they require. Interested in vocal, drama, musical theater? Apply for LaGuardia H.S. of the Performing Arts, Frank Sinatra, PPAS, and don't leave out Talent Unlimited, with a focused musical theater program in Manhattan. There is also Academy for Careers in Film and Television, and many more gems you can find. 
Check out all H.S. audition requirements and programs at the DOE site.
A school guidance councilor should be able to help, but if you need extra tips, reach out to a coach who has gotten many children into these schools.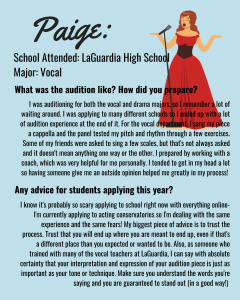 Finding Material
Choosing the right material helps catch the auditioners' eye. 
Each school has a list of monologue and song suggestions. 
What matters the most is that the material stretches you, is high quality content, and that you find a strong connection to your pieces. You should love what you are working in. It will show! 
Vocal Material Selection
Don't pick the latest song you've heard on the radio. Avoid well known pop songs and the latest musical theater song. If it is popular right now, you probably won't be the only one choosing that song. Think like an excavator and and explorer! Find something that may surprise and delight your auditioners. They hear so many students. Choosing something out of the mainstream will help you get noticed. 
Sing something classical, in Italian, or any other language that you love. Sing a traditional gospel song. Sing something that shows your full range. Take voice lessons to expand your head voice. I have seen so many students come in saying they can't sing high, but with proper exercises and techniques, you will be singing higher, clearer, and louder, and developing your pitch.
In previous years LaGuardia HS suggested these vocal pieces: Vocal Audition Suggestions LaGuardia HS 
Monologue Material Selection
A monologue is any moment in the play that an actor is talking for around one minute without interruption. Small response lines from other actors can be omitted, as long as it doesn't effect the meaning.
Monologues should be from published plays. Choose monologues close to your age range. You will usually need two contrasting monologues. Look for something serious and something comedic. 
You will then want to read the published play. 
Monologues Audition Suggestions for LaGuardia: See suggestions for published plays that actors can read to find monologues within the plays.
I have collected monologues directly from recommended published plays and love helping my students decide which monologues suite them best.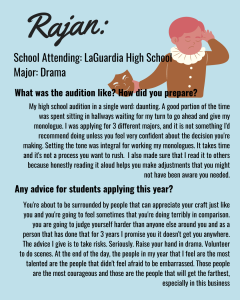 Memorizing Your Monologue
 Go deeper into your monologue with this improvisational tool.
Read your monologue out loud

Describe what happens in the beginning, middle, and end of your monologue. Say "I" instead of "my character". 

Improvise the monologue, making sure to say it in your own words. Get all of the points of your beginning, middle, and end.
How Do You Give Your Best Performance?
After you find selections you love, you must dive deeply into the material, prepared thoroughly, and perform with complete conviction.
Practice
You must practice. A lot. Can you do this on your own? Yes! But everyone is different. You know best if you need more help.
Are you dedicated? Will you spend time searching and practicing? Do you have a strong vision of what you'd like to do? If so, run with it. Make sure your choices fit the requirements.
Feedback
Getting feedback is a huge step up in how prepared you will feel.
Ask a friend. Ask a parent. I had my mother's advice and I got into LaGuardia H.S. of the Performing Arts.
If you are able to, join a class or find a private coach to help select and perfect audition pieces.
Getting feedback from a professional is one of the quickest way to learn and develop your full range of skills.
Even professional performers have teachers, coaches, and take classes to get feedback on their own performance skills and to continue to improve.
What Should Coaching look Like
When you decide to find a coach, you will most likely decide to set up weekly sessions. How many sessions, and whether it is for half an hour or a full hour depends upon you and your coach. Many of my students start with a full hour for one or two weeks while we try out different selections, and then they switch to half an hour. 
You can arrive with selection ideas, or rely on your coach to share ideas. It always a good idea to have some ideas. Be open to your coaches suggestions. But always share how you feel about the pieces. You may want to spend some time on a song or monologue before choosing or discarding it, or you may know right away. This is part of the process. Enjoy the learning.
Email or call now to schedule a private lesson or a consultation with Betina Hershey.
My Expertise Goes Way Back
I myself went to LaGuardia H.S. of the Performing Arts as a Dance Major, continued on as an Acting Major at Marymount Manhattan College on a Full Talent Scholarship, and went straight into musical theater performances, including Meg in The Phantom of the Opera,  and principal dancer in feature films Mona Lisa Smile and Disney's Enchanted.
I've coached many of my Garden Players students with their vocal, drama, and dance auditions and seen them go to LaGuardia H.S., Frank Sinatra H.S., Talent Unlimited, and more.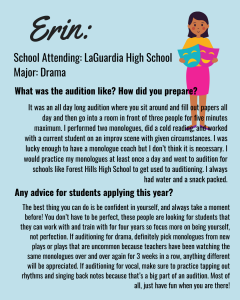 Suggested Performing Arts High Schools
LaGuardia H.S. Of The Performing Arts 
LaGuardia Arts, also known as the 'Fame' School, is a NYCDOE specialized high school. They are the only DOE specialized high school in the arts. Their dual-mission of focus on both professional preparation in conservatory arts and college preparatory academics is at the core of their values. Over the years, the school has earned an international reputation for excellence, with its alumni distinguishing themselves in virtually every field of endeavor, including the arts and sciences as well as public service and other professions! 
Here is the LaGuardia H.S. Website Audition Page. 

Here is a clip from their production of 'In the Heights' from a few years ago. Other clips from their drama, dance, and vocal departments can be found online!

Frank Sinatra H.S.
Frank Sinatra H.S. was founded in 2001 by the great American singer and painter, Tony Bennett, and his wife Susan Benedetto, a public school teacher. The school integrates the arts with rigorous academics, requires a commitment to community service, andhelps students cultivate a lifelong love of, and dedication to, their artistic passions and crafts. FrankSinatra School of the Arts is located at the vibrant Kaufman Astoria Studios complex in Astoria, Queens. Here is the video of their Senior Drama monologue showcase. More clips and performances can be found on their website!
Talent Unlimited
Talent Unlimited offers four years of student-centered, rigorous coursework simultaneously in the performing arts and liberal arts, preparing students for an arts conservatory or traditional college setting. The school educates in five performing arts fields: Vocal Music, Musical Theatre, Acting, Dance, and Instrumental Music. These programs are taught by well-experienced teachers and guest artists that have worked in their fields for over 10 years. Here is a short compilation of their work done during their production of 'Godspell'!
PPAS – Professional Performing Arts School
PPAS is located in the heart of the theater district in Manhattan. PPAS was created in 1990 to meet the needs of two groups of students – those demonstrating a strong talent and passion for the performing arts and those who were pursuing professional work in the arts. Many of its students already have professional credits from Broadway, National Tours, and film and television. It is the special mission of this public school to develop, refine, and showcase students in dance, drama, musical theater, vocal and instrumental music while providing them with a comprehensive and rigorous academic curriculum. Watch this highlight reel of their 2019 production of 'Caroline, or Change'!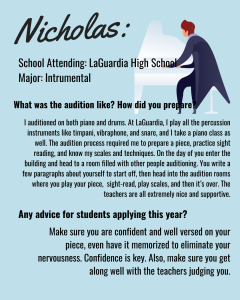 Don't Give Up 
Remember, if you don't get into the school you wanted this time, it does not mean that you don't have talent. 
Most professional performers become professional performers because they do not give up. Just because one school or one person looks you over, it does not mean you don't have the talent to succeed. 
Maybe they didn't notice you because they were hungry. Maybe you needed a little more practice. Do not let one round of auditions hold you back. There is always a next time if you don't give up. 
If you deeply love your art form and continue to seek guidance, you will learn, you will develop further skills, and you can succeed!
– 
Betina Hershey Leads Garden Players Classes, Teaches Private Lessons And Audition Preparation, Writes Musicals That Have Been Published And Performed In Over 65 Countries Around The World, And Has Performed In Musicals And Bands Worldwide. Her Students Go On To Attend La Guardia H.S., Frank Sinatra, Talent Unlimited, Professional Performing Arts School, And More.
Contact Betina to schedule a consultation, private lessons, or coaching now. You can share what you've worked on and get additional feedback, or you can start from the beginning together. Fall 2022 rates: $90 for an hour, $75 for 45 minutes, $50 for half an hour.
Subscribe to our newsletter for theater inspiration and Garden Players news.