The Scooches and the Garden Players Kids:
A Joyful And Socially Aware Concert Experience
Attention Garden Players community and music lovers in New York City! The Scooches are bringing their unique and diverse sound to the Garden Players Concert on January 8th at 3pm and 5pm and you won't want to miss it.
"Lift You Up," an interactive musical experience, promises to be a joyful and socially aware event. The Scooches, a melting pot of cultures and genres, have garnered praise from the London Times for their "unfailingly high-spirited" performances. They have also played with some of the biggest names in music, including Wynton Marsalis, Paul McCartney, and Willie Nelson.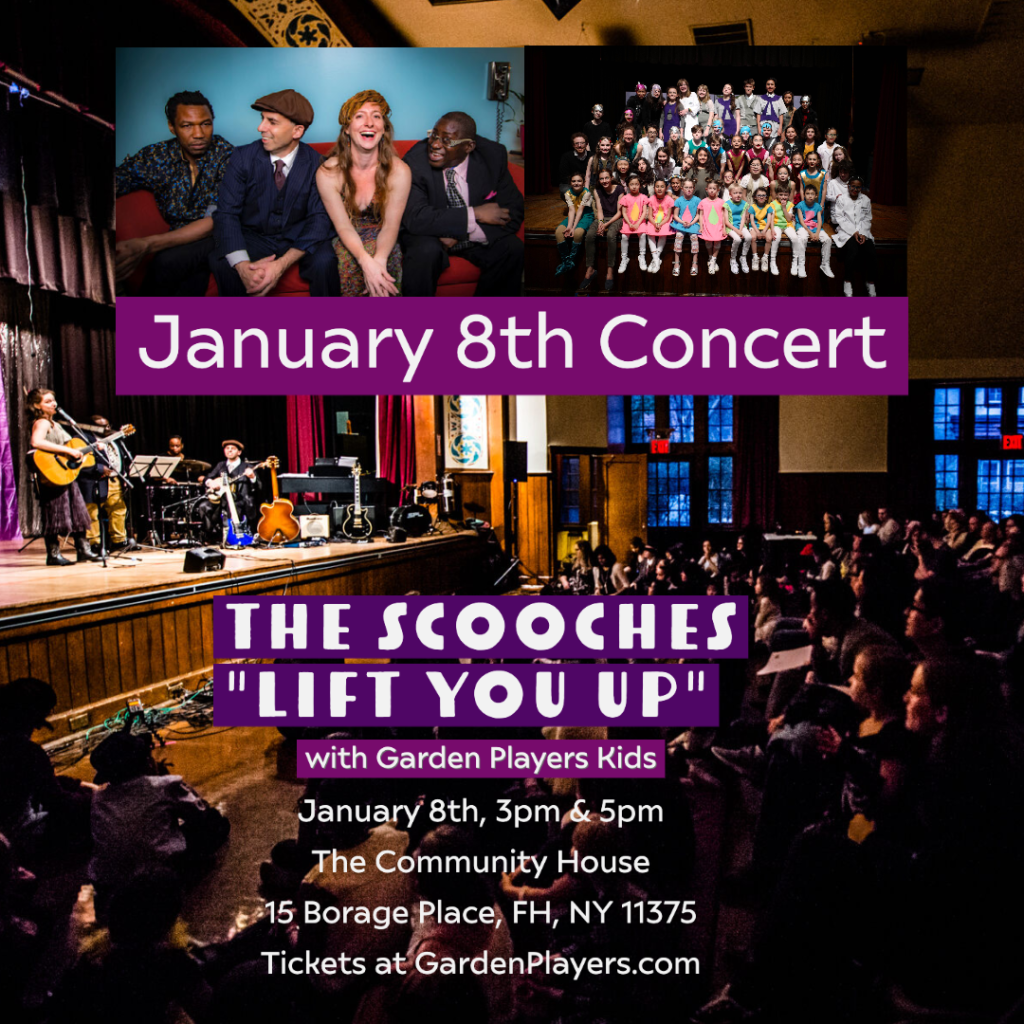 The Scooches are more than just a great band. They are also advocates for unity and inclusivity, with band member Nick Russo saying, "My dream is that people of all races and origins live, play, and share all our different world musics and cultures together as one united race, without fear." This message is evident in their latest album Get Us Out Of Fearland, which reached #2 on the International Folk DJ Charts.
"…an amazing group which a lot of us dreamed would happen someday where the different genres of music all get together…" – David Amram
The Scooches will be joined by the Garden Players Kids, who will sing songs from their musical "We Are Monsters" and invite the audience to join the Scooches on "Stop This Climate and Change" and "Let's Grow Our Roots Deep and True." The Garden Players is a small, local musical theater program that aims to cultivate children's social emotional learning through community-centered, socially aware theater education and performance opportunities.
This is not a concert you want to miss. Get your tickets now at GardenPlayersTheater.com and experience the powerful message and diverse sounds of The Scooches and the Garden Players Kids. See you at the show!
Excited to be in the next show? Join our classes and the next semester show! Take a trial class or two January 10th and 17th ($30 per trial class) and then they can sign up for our second semester. Need to join late? We have Acting Improv & Monologues classes. Check out our class info!